Within Safety Product, we are a mix of different people who all want to combine newest technologies, economics, ethics, market needs and environmental responsibility to create high quality new products.
Safety Product launches the ZIPpole as a pole with the extra advantage of being passive safe.
By being innovative we succeeded to redevelop a common used product to become a solution which fits in the current society where traffic, the roads and its users have become more busy, with often bad consequences.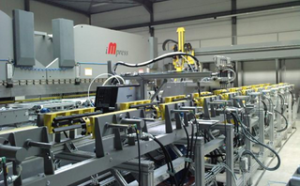 We set ourselves different goals:
Designing a pole for all kinds of different road infrastructure.
Developing a safe pole. Making a mistake in traffic by hitting road infrastructure should not be punished by having bad injuries.
Inventing a product which is more eco friendly, with a healthy carbon footprint.
Building an automatic production line to reach high production volumes which results in good prices. Safety Product has reached these goals and launched the ZIPpole. We invested in an automatic production line in Belgium with a capacity of 90.000 ZIPpoles a year.
People – Planet – Profit
People:
This passive safe steel pole yields on impact and will slow the vehicle by transferring the latent energy away from the occupants. The risk of personal injury and or fatality is greatly reduced.
Planet:
– steel can be recycled (cradle-to-cradle).
– 50% less steel is used due to the composition of the steel.
– low emission production process utilized in the automated production process due to no welding.
Profit:
Thickness of steel is reduced to 2mm by specifying a high tensile steel grade. Less material is used in an automated production process ensuring competitive pricing for this level of innovation and application delivery.